Eat and Drink
Boutique Ginger Beers
Strangely, I only recently discovered that you could buy alcoholic ginger beer. The whole 'beer' part of the title was really lost on me. It is a great alternative to regular beer as the ginger makes it spicy and refreshing but it doesn't have the overly sweet taste often common in ciders. These local boutique brews are two of my favourites but surprisingly hard to come by. I have purchased them before as a local bottle shop but after discovering they were sold out haven't been able to find them elsewhere (hence stock photos). If you see either these two around make sure you give them a whirl; they're not just a pretty label.
Watch
Girls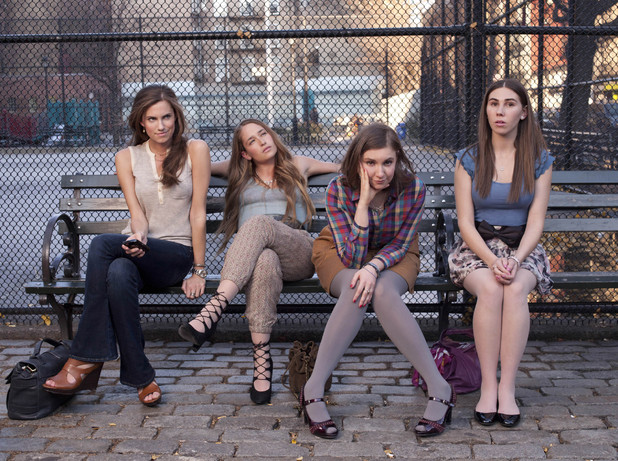 I arrived late to the Girls obsession but am so glad that I finally have. After months of recommendations to watch this highly relevant and addictive program, I have been glued to my laptop for two weekends straight. I am almost through the second season and can't wait to catch up to the most recent episodes from the hyped season three. If you're yet to be converted to this brilliantly hilarious and heartbreakingly true-to-life series there are plenty of reviews around the interwebs but this is a good way to start (click here).
Read
How To Be a Woman
by
Caitlin Moran
Two books have captivated my attention this month. I received Caitlin Moran's How To Be a Woman for Christmas and could not put it down. I devoured the hilariously apt auto-biography during some downtown after Woodford Folk Festival. Moran has turned various phases of her life into life lessons with an empowering feminist twist for women of all ages at all stages of life. As a 20-something confused with parts of her semi-ignorant generation it is always refreshing to read such a loud voice expressing exactly that I feel in coherent yet entertaining manner.
"So here is the quick way of working out if you're a feminist. Put your hand in your pants.
a) Do you have a vagina? and
b) Do you want to be in charge of it?
If you said 'yes' to both, then congratulations! You're a feminist."
Caitlin Moran, How To Be a Woman
Bewitched & Bedevilled
by Samantha Trenoweth and others
The other work that I have been absorbing like water is a collection of essays written by Australian female political commentators about the years of the Gillard Goverment. Australia's first female Prime Minister had a short three years in office wrought with the perils of a country not ready for a leader who diverged from the norm; white, Christian males with a nuclear family. Despite passing a ridiculously high number of bills through the House of Representatives, (the most efficient Prime Minister and government Australia has ever seen) sexist bullying and negative portrayals by conservative media outlets has a large portion of the public viewing her as the worst thing to ever happen to this country.
This book explores all facets of her Prime Ministership, from strident feminist perspectives through to analysis of some fairly negative and hugely disliked pieces of policy that Gillard's government actioned. It highlights and constantly reiterates that a man in the same position, the highest in the land, never has and will never be disrespected and bullied in the same way that Gillard was.
If you're looking for modern and relevant feminist titles, I definitely recommended these two. Let me know your favourites in the comments.
Listen
Thelma Plum
I've been seeing and hearing little bits about Thelma Plum for a few months now on Triple J and music blogs but had never delved much deeper. That was until I had her music permanently stuck in my head after seeing her at Woodford Folk Festival. This young Brisbane girl has tapped into the veins of the the flourishing Australian female singer song writer market. She picked up the award for National New Talent of the Year at the National Indigenous Music Awards late last year for her cute sounding angry folk pop. Its fairly obvious she has been through a difficult relationship recently and has found success in this emotional output. I really hope she continues to bloom this year and releases a full length album sometime soon.
Tech
Sleep Bot for iOS and Android
Sleep Bot is the most intuitive and effective alarm clock I have ever had. It starts working from the moment you tell it you are sleeping right until you actively turn it off in the morning. Instead of letting the several consecutive alarms that I know some of us have Sleep Bot has a smart alarm that not only starts to go off 30 minutes before the one you have set but goes off according to the part of your sleep cycle that you are in. You are also able to track your movement and sounds while sleeping.
I was fairly content with these functions but always put a slow soothing playlist on at the same time to help me sleep. I find that sometimes music can be great for sleeping but it can also be distracting and ineffective. A recent update of Sleep Bot now includes ambient white noises that you can play for up to 25 minutes while you try to sleep. Sounds include 'nature at night', 'wind in the trees', 'city ambience', and my personal favourite, 'ocean tides'. I find it much more effective to have white noise while I sleep.
I hope you have all enjoyed the first post in my new Monthy Round-Up series. I have set myself a goal of posting a favourites post like this every month for as least the duration of 2014, if not longer.
Please let me know if you liked it or if you have any suggestions.